All good things must come to an end, and the first frost of the season ends our blueberry picking for the year. As the trees around the blueberry fields turn their brilliant orange, yellow and red fall colors, we close down the blueberry shed, take down the signs, stack and store the picnic tables, and drain the irrigation system getting ready for winter.
In the spring, after winter releases its hold on our fields, there is work to be done to prune and fertilize the bushes, and get them ready for the coming summer season.
The autumn, winter, and spring seasons in the blueberry patch are pretty in their own way. We just wanted to share a few pictures with you to look at, while you are enjoying the bounty of summer blueberries that you have stored in your freezer.
Buds on the Berkeley variety when they were just starting to swell
in the spring
Buds of the Berkeley variety are
swelling nicely in the
warm weather we're having.
Blueberry flowers on the Elliott Variety
This photo was featured in the Gardening Section of the Chicago Tribune on June 12, 2005
The air is sometimes filled with dragonflies
in the spring
This rainbow over the blueberry shed was a
welcome sign that the spring rains have stopped
Two young blueberry pickers,
Anja and Josie (l-r) from Center Sebago,
sample their berries after a
morning of picking at Crabtree's Blueberries.
Here are some ripe Blue Crop berries
ready for picking
Amy Sinclair from WGM-TV Channel 13 in Portland
interviews some blueberry pickers from Washington state.
On Tuesday, August 17, 2004 Amy Sinclair from WGM-TV Channel 13 spent two hours at the blueberry patch interviewing pickers and gathering material for a story on pick-your-own blueberries for her "What's Growing" weekly gardening segment. She and I were featured, along with some of our customers, on the Channel 13 evening news that night.
This photo was taken on Saturday, September 18, 2004.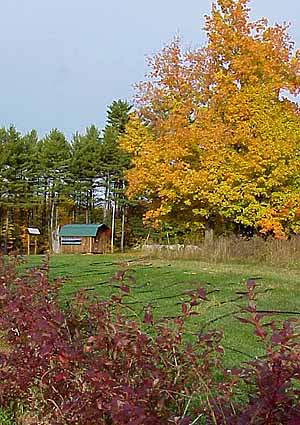 The signs are down and the blueberry shed
is closed down for the winter
The blueberry field is fringed with scarlet
and orange fall foliage
Time to put the berry buckets away till next summer
The leaves of the blueberry bushes turn a bright crimson in fall
Blueberries add their colors
to the magic of Autumn
in Maine
The winter-dormant blueberry bushes
sparkle with a coating of ice and snow
A February 2003 snow and ice storm
left the blueberry bushes with a
coating of ice
Please call us if you have any questions or suggestions, and we hope to see you at Crabtree's PYO Highbush Blueberries this summer.
Allen and Penny Crabtree
(207) 787-2730
---
Maine Blueberry banner and Sebago Map created by Allen F. Crabtree IV
This page was last updated July 7, 2017.
Copyright © 2001 - 2017 by Allen Crabtree